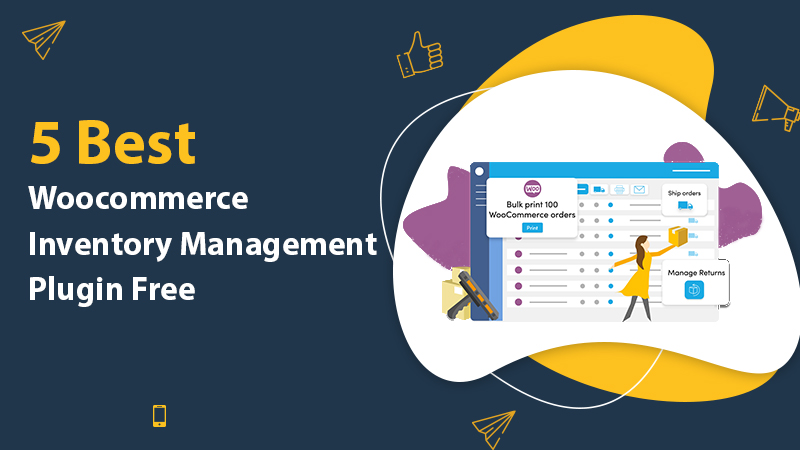 5 Best Woocommerce Inventory Management Plugin Free
When you are just starting your woocommerce store, it is not so much trouble to manage inventory. You have a few products, and you know where you are purchasing them from. You know who is buying it too. All things are easy, and as your store grows it all becomes complex. You know the demand of your product is increasing and your sole supplier is not able to meet it. You look for other suppliers and distributors and there is no time you're in a complex web of supply chain and logistic hurdles. This is the point when you need the help of an efficient inventory management plugin that will help you to keep everything organized and sane.
In this article looks into some of the benefits to choosing woocommerce inventory management plugin free early on, and some of the efficients plugins currently available.
TradeGecko

Tradegecko is one of the best plugins for inventory management solutions available for Woocommerce. It is an extensive plugin that helps you deal with the rising demands of a growing business. This plugin automates stock updates, stock adjustments and purchase orders for your store. Tradegecko is an inventory software that syncs your sales with multiple aspects of your store such as stock level, invoice and delivery. It provides adequate tools to launch your own wholesale business by creating the wholesale price list for your products. By this tool you can see the detailed reporting and analytics tool will provide valuable insight on your growing customer base and profits.
The recent updates of tradegecko has provided new features and functionality like exporting stock movements, order routine, demand forecasting, and tradegecko manufacturing etc.
Tradegecko manages itself simply to deal with even though the data it is dealing with at the back end is quite complex. The modular design with WooCommerce ensures that your focus keeps on the most important aspects of your business. It allows you to sell across multiple channels at the same time with no effort. You may also combine multiple WooCommerce stores into a single inventory system. It also helps in the fulfillment of routine tasks such as purchase orders and procurement integration.
This also helps with product tracking and keeps you informed about perishable product expiration dates. When you run a WooCommerce store, creating product bundles and subscriptions is a major sales tactic. With its seamless integration of multiple store features, TradeGecko can help you develop subscription product kits or bundled products.Accounting for your store is another time-consuming task that TradeGecko will help you to. TradeGecko online integrates with cloud-based accounting systems like Xero and Quickbooks, which are common among small businesses all over the world.
TradeGecko also offers a free mobile app that can be used to build and manage orders along with monitor inventory.
How does tradegecko integrate with woocommerce?
Once you integrate tradegecko with your woocommerce store, your operation will be clockwise. When a customer places an order in your store, tradegecko creates a sales order and generates an invoice for it. Ensure that the order has been paid for and shipped to the customer, and that it has been updated in the system so that the stock level could be adjusted accordingly. And any time you can customize a report providing diverse insight for low stock items to periodic profit margins.
It helps in the integration of multiple sales channels. You may sell through your WooCommerce store, a wholesale unit, or a third-party marketplace. TradeGecko can support you in collecting data from all of these networks so that you can manage them all from one place.It provides you more accuracy by saving you time. It increases the reliability of your business by avoiding human errors. At the same time, it greatly increases the speed of operation.For a 14-day free trial period, you can use TradeGecko on your WooCommerce store. After that, you can select a plan that fits best the business needs. There are a series of plans available, starting at $39 per month.
Bulk Store Management

This plugin completely helps you with your woocommerce store's stock management. It will create a separate interface of your site and also list your products and variations with their stock information.
By this you can filter products by a range of properties such as:
Product type
Stock management status
Stock status
You can also order the list by:
It also helps in bulk updating the stock quantity and stock management of multiple products at a time. If needed you can print the stock report of your store as well using the plugin.
The Single site subscription to this plugin would cost you $49.The 5-site subscription will be $79 and the 25-sites subscription will be $149.
Katana

It is an innovative tool that will help you manage your production and inventory fulfillment with a single dashboard. It syncs your products scheduled with the fulfillment and as a result any changes in the plan will be easily visible. The katana's dashboard offers a visual overview of your entire store, and you can easily make changes using drag and drop user interface.Even it will help you to enhance the fulfillment process, you will track by the product process and stock availability of all your orders.
Here we discuss katana's best features that will make your inventory management process quite easy.
Adjusting strategies for manufacturing jobs, tracking the supply chain, and providing expected completion dates all help with production planning.
It will help in control of the production line by providing clear instruction to every employee.
By optimized inventory control to help you make the right decision for manufacturing and purchasing.
Provides integration with multiple ecommerce platforms and other tools.
Will help you to make better pricing decisions by tracking the manufacturing costs.
Manage orders from different channels by identifying multiple delays and changing priorities accordingly.
The most basic plan costs $99 a month. You'll have a 14-day trial period to trial it out before subscribing to the subscription. Once you've decided on a package, you can customise it by adding customers, eCommerce sites, and inventory locations.
Veeqo

Veeqo is an each store of retailers to manage orders, ship to customers, and keep track of inventory. You just need to connect your woocommerce store with veeqo inventory and your products will be synced with the real time. To keep inventory accurate across all of your sales channels so you never over sell again.
By Veeqo inventory management you can do such as:
Maintain inventory accuracy across multiple warehouses and locations.
Inform you where any item is located in your inventory.
Also create a product kit and balance inventory.
You can control how much socks show for each store.
Show a completed history of an inventory.
Bulk edit inventory.
On a laptop, mobile device, or tablet, you can manage your inventory from anywhere.
This plugin offers the first 14 days free trial and after trial it will be chargeable as per the subscription.
Woocommerce Stock Manager

This option is a free plugin that you can download from the WordPress plugin directory. It helps in the management of stock for both basic and variable products. For each product and variation, you can manage stock, stock status, back orders, regular price, selling price, and weight with this plugin.You can quickly take action on any critical status due to the color-coded user interface, that gives you a good idea of stock status. You can arrange products by product type, category, stock status, and other variables.
You can also export all stock data from your store to a CSV file using a plugin. You can edit the CSV file to fit your requirements before importing it back into your store.
Installation of Woocommerce stock manager
After you install the plugin, go to the WordPress admin panel and check for the 'WooCommerce Stock Manager' section.The plugin interfaces to your stock data and shows you full information about your current stock. You can easily edit this information without having to go to the product detail page.
This plugin allows you to import and export CSV files with stock data.
On WordPress, the plugin has over 10000 active installs and 25 five-star reviews. Its popularity in the community is largely due to its simple interface and ease of setup.
Why should we use woocommerce inventory management plugin?
Inventory management is a big task that can create a lot of problems for WooCommerce store owners. When you have multiple manufacturing and production channels, it becomes extremely difficult. For the store owner to maintain a strong grip on the store operations, it is useful to integrate and organise everything in one place.Thankfully, the WordPress WooCommerce community offers a variety of inventory management solutions. The solutions in this article should support you in simplifying your inventory in the way that you want. If you have any questions or suggestions, please do not hesitate to leave a comment.