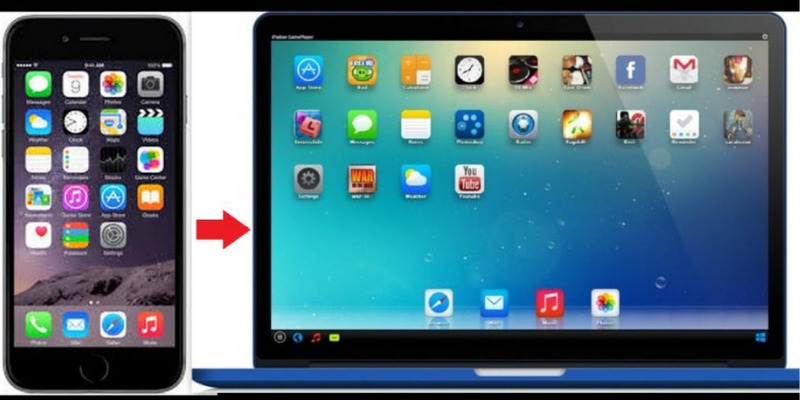 Emulators of iOS for Windows
The Emulators is a type of program that is used to convert windows into Mackbook. It is usually used to play video games and is used to run different Operating systems on the devices such as to run iOS on windows.
Following are the emulators for Windows or Mackbook are
LD player

Bliss Os

Mumu

Nox

Phoenix OS

Android Studio
1. LD player
LD player is one of the lightest weight emulators that only focus on the performance of games on your device. LD player helps the games like Free fire, Pubg and Moonlight and helps them to run smoothly. It also helps for running apps like Tik-Tok, Instagram, Whatsapp etc on the Pc. Ld Player is the all-rounder emulator and helps the device to run smoothly and effortlessly.
2. Bliss OS   
Bliss Os are different from other emulators. It contains a virtual machine of Pc and works as an Android emulator. The steps to use Bliss OS on your PC are as follows:-
Download Rufus on your Pc and run it as an administrator.

Pin it on the "SELECT" button and then click on the ISO file.

Then click on the START button and mark YES. 

After that, the software will automatically create a bootable drive for you

Disconnection of USD stopped the procedure and the Bliss OS didn't work.

Before formatting the drive you will get a warning from the software.
3. Mumu
Mumu is an emulator that is used to run the Android version on the Pc for playing various games and apps on the PC. This emulator helps us to play various games like Pokemon Go, Summoners War, Grand Chess, Free Fire etc on your Pc smoothly and effortlessly. It is the best emulator to play Free Fire on your PC.
4. Nox
Nox is the Free PC software that is used to run various games and apps of Android on the PC and Mackbook. The latest version of Nox is Version 7.0.1.9 and is launched on 25/11/2021. It helps us to run mobile games on your Pc with the Android 9 version
5. Phoenix OS
Phoenix OS 3.6.1.564 is the latest version and it works both on 32-bit and 64-bit PC's. Phoenix permits you to run mobile apps and games on your Pc's and Desktop and helps you to run various video games smoothly and effortlessly. The installation of Phoenix includes the installation of a gallery, web browser, calculator, music player etc that are found in android devices. It is suitable for Windows 10, Windows 8 and Windows 7 and the latest updated version was launched on August 23, 2021.
6. Android Studio
Android studio helps to run android devices on the Pcs and laptops. It works on 32-bit and 64- bit PCs.the latest version of android studio is 30.4.5 and the last update comes on February 23, 2021.  The windows supported by Android studio are Windows 8, Windows 10 and Windows 11.