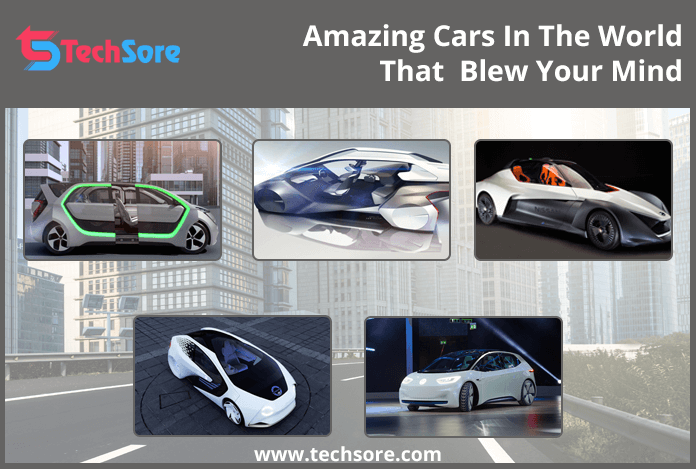 Amazing Cars in the World That  Blew Your Mind
A long way and amazing cars make your journey more joyful and safe. Automobiles have a big market size in all over the world. Last year it crossed the 90 million mark. Talking about cars- is a combination of both style and standards. More accessible cars have extended prices.
Besides people have a picture of their dream cars, here in this article we have listed the top 5 amazing cars with the smart concept that can match the picture of your dream car.
Top 5 Amazing Cars in the world
Bringing technology in every mode of life enhances your comfort and improves your experience. Hight tech cars amaze the most. Here we have the top 5 amazing cars in the world that high tech, smart enough to drive and survive in the future.  Let's have a look-
Let's have an overview of every amazing car listed above
1. Chrysler Portal
Basically, to create the new age family transportation, FCA collaborates of fresh ideas of youth working inside its designs and engineering features. So you can say Chrysler Portal concept is produced by millennials, for millennials.
Today's Generation is a tech lover, environmentally aware and cost-conscious. Chrysler portal concept is designed to fulfill all these needs. This gets the family vehicle's look to the next level.
However, the Chrysler portal has almost 20 technology that is ultimate in use like connectivity in driver and passenger by their mobile cameras and laptops. Moreover, the joint project among FCA and Engineers of Panasonic Automotive integrated technologies will include other features also like  Facial identification, voice biometrics, vehicle temperature, etc..
2. BMW i Inside Future
BMW i inside modal is the future of Automotive because it makes the autonomous driving a reality. This car is an environment where new modal displays technologies that applied to create a unique digital experience.
Furthermore, BMW i inside is an approach to design user-focussed experience. The seat's design with control and focus moving from the driver's view.
Car experience is created around two modalities: "Me Time" and "We Time". We Time- create a shared space for social communications wherever groups can join each other. While, Me Time- concentrates on the modification of its own potency of productivity. For this, a person can utilize personalized content in different places.
3. Nissan BladeGlider
Nissan BladeGlider is not just a notion. It is a project for the future path of Nissan electric vehicle improvement and innovative prototype of the upcoming vehicle from Electric vehicle manufacturer.
While this car designes with unique architecture taking care of driver's and passenger's comfort.  Moreover, It combines zero-emissions with high-performance in an advanced sports car design.
The idea of creating Nissan BladeGlider is inspired by the Tokyo Auto Show of 2013. However, Nissan is already sold the highest volume zero-emission- The LEAF. It has a pioneer Intelligent Mobility system that will be disposed of in a range of vehicles over the coming year.
4. Toyota Concept-i
The Automaker describes the Toyota Concept-i vision of connecting humans and Artificial intelligence together. Besides, the artificial intelligence of this car is name as "Yui" that anticipate the driver and passengers requirements, measures and responding to their emotions. Everything is almost automatically.
Toyota looks designed with a forward-projecting silhouette and advanced HMI(Human-Machine Interface) for new user experience, including interaction with an Agent.
Moreover, the company is planning roads testing of vehicles equipped with some of the concept car's features via around 2020
5. Volkswagen I.D
Volkswagen I.D is an Automotive vehicle based on the MEB platform and part of the I.D Series. However, this was first shown as a prototype in the 2016 Paris Motor Show. Ignore the fact that Volkswagen I.D looks similar to the Golf. It has 48kWh Battery with a range of 330 Km and limited performance.
The designs were simple- no carbon fiber. The led headlights give the car emotions while it looks around the areas to provide a better vision to the driver.  The car intends to be an affordable one. So people can think besides its price tag.
That's all!
All these amazing cars are futuristic and automotive.
I hope you like the article. "Sharing is caring". So, keep sharing this article to others also.