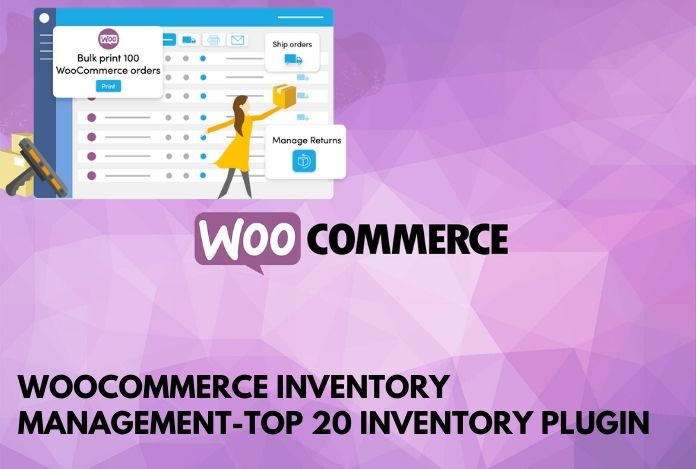 WooCommerce Inventory Management-Top 20 Inventory Plugin
Online stores are the trend of today's time. But how you manage inventory in online stores. If you are working with WordPress than use the WooCommerce inventory management plugin.
WooCommerce is good for e-commerce stores. And with inventory management plugin you can easily manage inventory. Along with this, you can also have various other benefits like accurate planning, warehouse organization, inventory balance, employee efficiency, etc.
There are different plugins available for inventory management. But can be difficult for you to select one of the best WooCommerce inventory management plugins. To make it simple for you we have created a quick comparison and review about inventory management plugin. Read and select the best for you. Before that let's have a brief about inventory management.
What Is Inventory Management
The process of ordering, storing and using an inventory of a company. This may consist of the management of both online and offline selling products. The inventory management is dealing with the stock. For example, as you are the owner of a flower shop. Then you have to manage data like which flower used in more quantity when to reorder flowers, order seasonal flowers, etc. All these points come in inventory management.
However, to run a store you don't want to bounce any sell. So inventory management is a need to reduce the bounce rate of sale. In an online store, plugins will work for you. To understand how read benefits of WooCommerce inventory management plugin-
Benefits of Using WooCommerce Inventory Management
The WooCommerce gives good flexibility to incorporate features that are not available out of the box. So in some cases, you can find some excellent tools for managing inventory Software.
Let's have a look at some of the features where these solutions can create a positive difference.
Professional yet easy.
It gives huge flexibility.
Balance the supply chain.
Tracking business growth.
It provides attractive themes.
Automation for instant results.
Managing multiple sales channels.
You can adjust inventory from anywhere.
It coordinates everything from one place.
Smooth integration with the WooCommerce.
So these are the beneficial points for customers.
Next, we starting WooCommerce inventory management plugins.
WooCommerce Inventory Management Plugins
Here are the best tools. Therefore, we have handpicked the best and popular ones that support you in WooCommerce stock management. And some of these plugins are SaaS-based.
So here is some leading software with some of their top features and pricing.
1. TradeGecko

TradeGecko has integration with WooCommerce and many different similar platforms. This is one of the most popular multi-channel WooCommerce inventory management plugins as well as order management tools.
It allows the users to balance their creativity and passion with business and operations, giving them the best of both worlds. Its plugin offers a mobile app for iPhone, iPad and apple watch that lets you manage your products and orders from anywhere and it's free for all TradeGecko users.
This plugin gives an ample tool for lunch your own wholesale business by making a wholesale cost for your products. It helps the multiple channels at the same time without any problems.
Key Features
Multi locations.
Inventory control.
World-Class Support.
Inventory Optimization.
Accounting integration.
Warehouse inventory management.
Pricing
TradeGecko offers 14 days of trial periods and pricing starts from $39 per month.
To Founder $39 per month.
Lite $ 79 per month.
For Small businesses $199 per month.
For Business $599 per month.
2. Smart Manager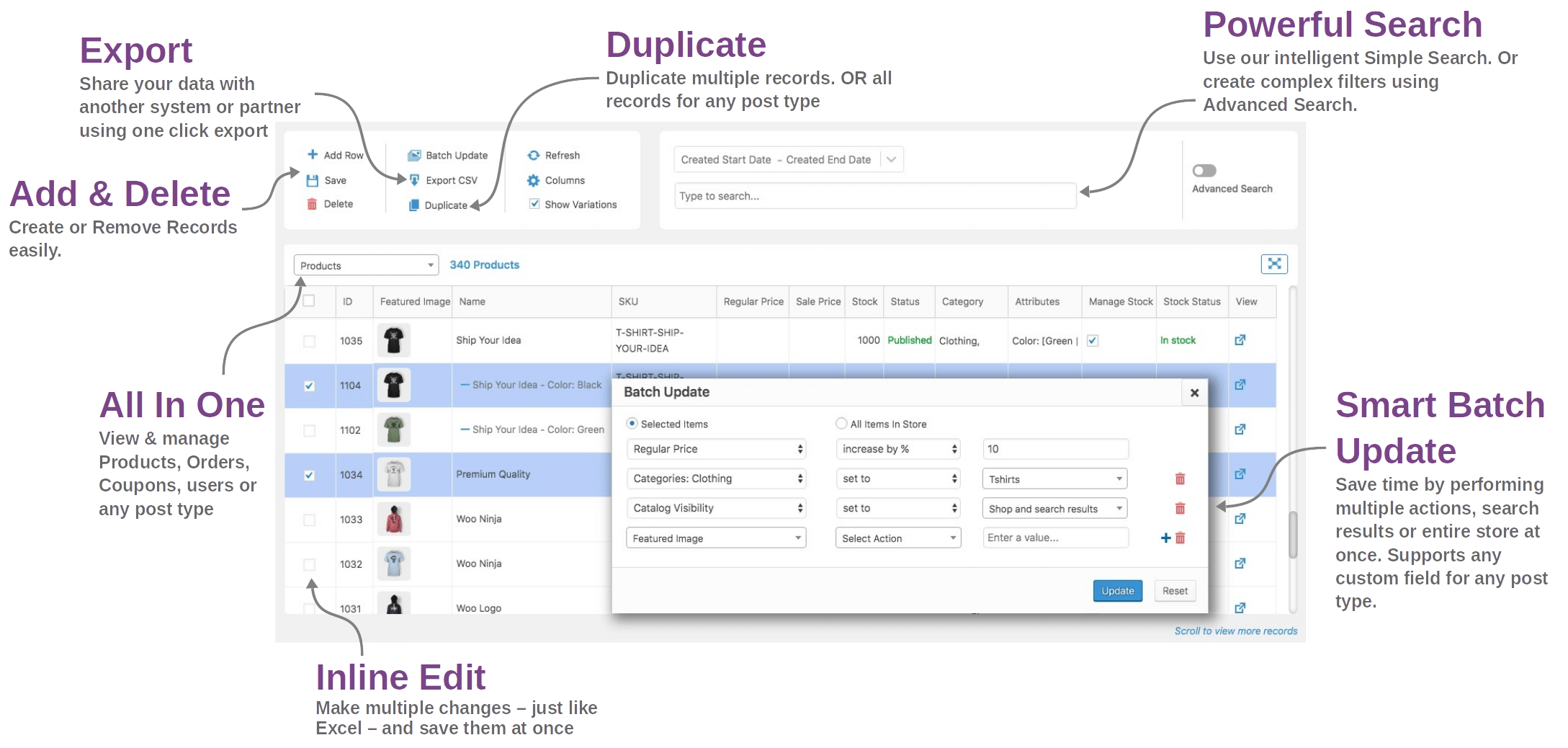 The smart manager is a unique and very popular WooCommerce inventory management plugin from StoreApps. This provides the best service and power to efficiently manage products, customers, and orders.
It has given breakthrough results for WooCommerce store owners. It also helps the users in managing the e-Commerce store.
Key Features
Inline edit.
Batch update.
Easy reports.
Snappier navigation.
Automatic calculations.
Fast spreadsheet-like browsing.
Pricing
The single site license is $149 per year.
It's a free version available in the WordPress repository.
3. WooCommerce Rapid Stock Manager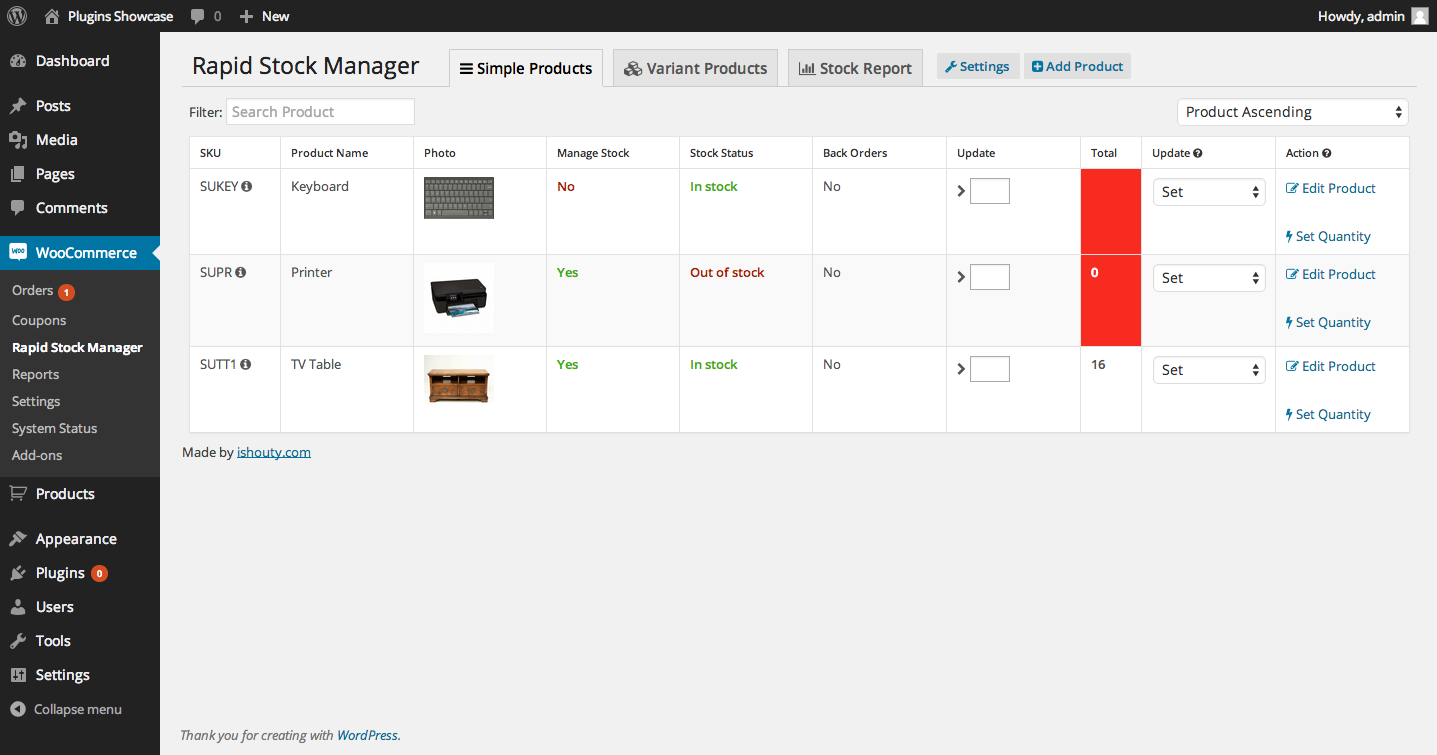 WooCommerce Rapid Stock Manager enables the user to update your stock inventory and variant sizes fast while displaying everything on a single screen. With the help of this stock management, you can refine products by type, category, stock manage or stock status.
This helps you with the option to update the stock on your online store automatically while adjusting with the existing stock levels. Because of this, the customers won't face any problem when they buy a product.
The stock report detail is ready with data on who edited the stock last and to what quantity. If you are using this device, you can integrate stock around multiple warehouses and also print transfer receipts. Hence, you can buy this tool with a regular license from CodeCanyon for $46.
Features
Stock report.
Batch update.
Friendly interface.
Multiple warehouse management.
Pricing
It has a regular license is $49.
4. Orderhive Inventory Management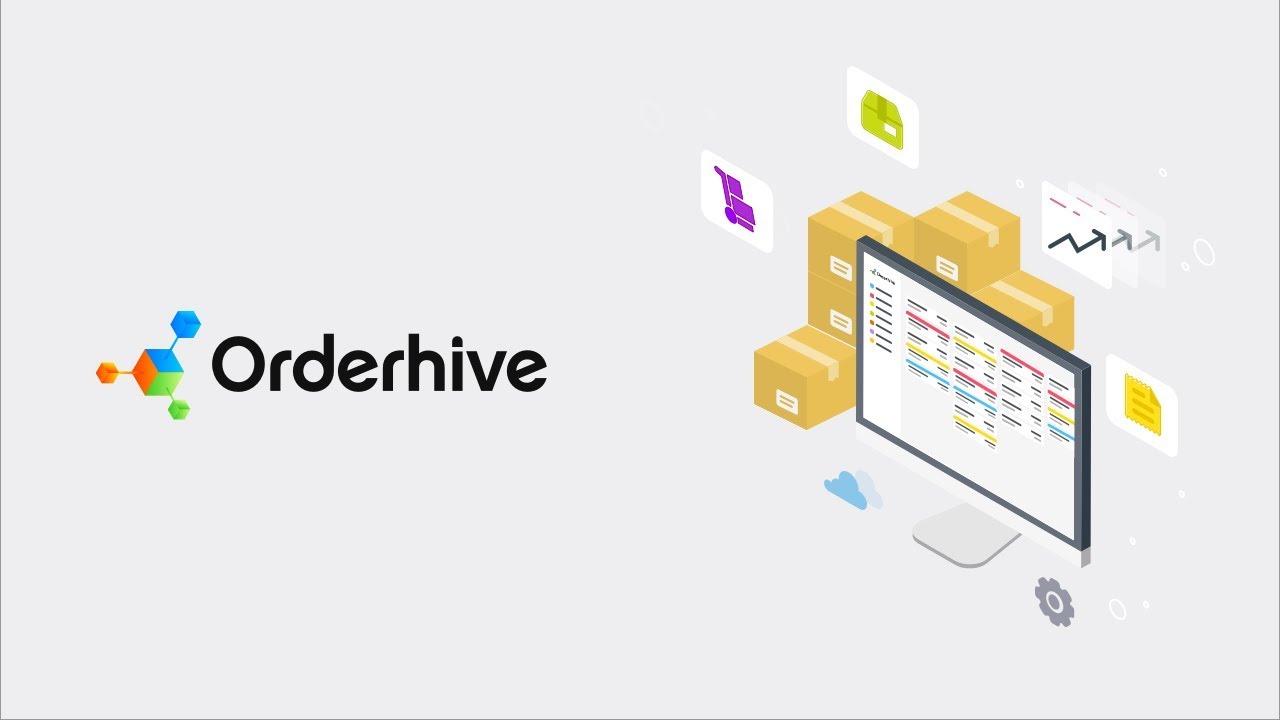 Orderhive is a SaaS-based inventory management tool for multichannel online sellers. This provides a warehouse management feature by which you can manage multiple warehouses with flexible stock policies, stock transfers and easy integration of your accounting software. This allows you to sync with multiple ecwid channels.
You can cancel, confirm, ship and track orders from one place without wasting your precious quality time. It provides a warehouse management feature by which you can manage multiple warehouses with the flexible stock policies, and stock transfers and simply an integration of your accounting software.
You can track the order you placed through its order and also gets the real-time order status updates. It helps to manage all your inventory in one place so you can track the performance of every and each product from anywhere and at any time.
Overdrive is one of those plugins that allow you to do all your inventory activities by scanning barcodes. So you can install this plugin for a powerful and happy business.
Features
Barcode system.
Multichannel mapping.
Configure product bundles.
Real-time inventory tracking.
Easy yet beautiful application.
Developed by a leading brand Openxcell.
Pricing
This is free for 15 days trial.
Orderhive starter package $99.99 per month.
The professional package started $199.99 per month.
The growth package is $299.99 per month.
5. Zoho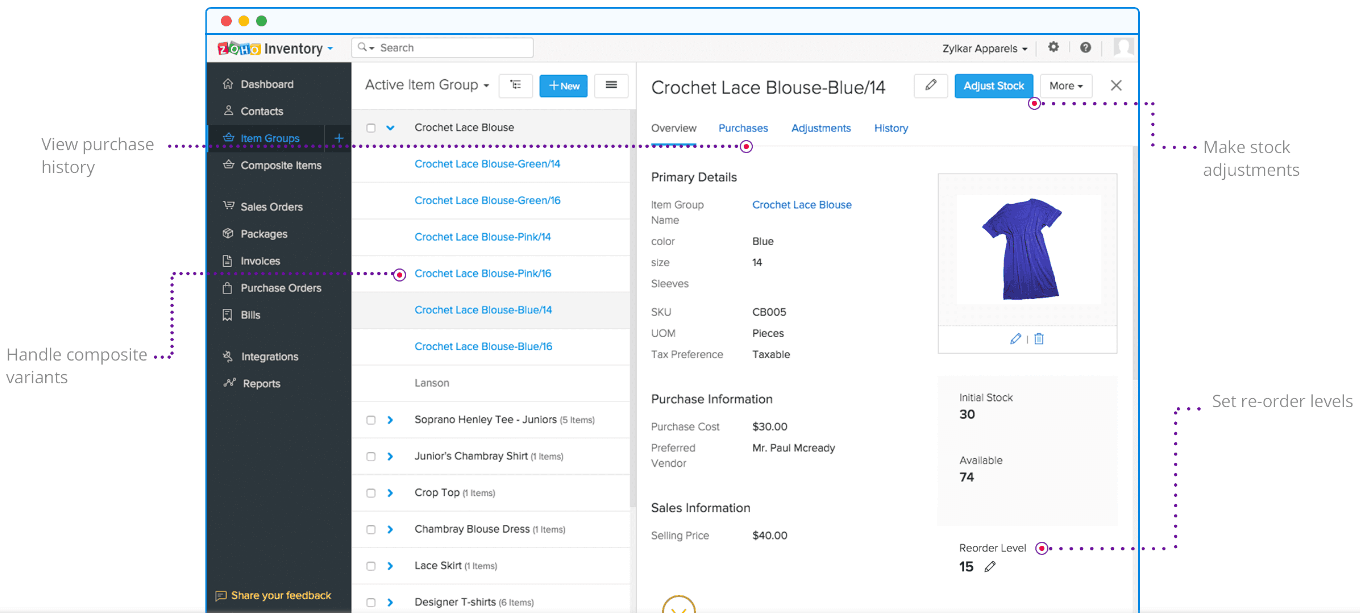 Zoho is a different responsive WooCommerce plugin that mainly focuses on your sales with excellent control over inventory management and order fulfillment. This is a cloud-based inventory management tool. You can synchronize all your WooCommerce orders with this plugin.
Zoho has also partnered with the best shipping carriers around the world. It provides multichannel inventory management. This is a very easy setup and installs the WooCommerce inventory management plugin.
This is integrated with the other modern plugins which allow you to sell your product on different online platforms like Amazon, eBay, etc. These plugins also support saving a detailed log of every and each WooCommerce order and send them for Zoho CRM.
If you are using this plugin then you can synchronize all your WooCommerce orders with this effective WooCommerce inventory management plugin. You can list the items using the Zoho plugin according to their types of features.
Features
It is easy to install and setup.
It's automatically connected with the WooCommerce store.
Error reporting service is available.
Synchronized all WooCommerce with Zoho.
Zoho filters the products through its type, price, date of manufacture, etc.
Send data like a note.
Pricing
The basic premium version is only $29 per month where you can handle only 100 orders per month.
The pro version is only $249 per month where you can handle up to more than 30,000 orders per month.
6. WooCommerce Stock Manager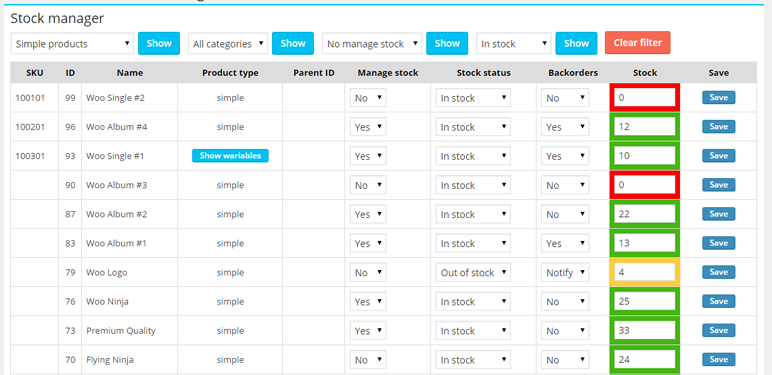 WooCommerce stock manager is one of the best and popular inventory management plugin. This provides you a single screen to manage all your product stock and their variables. Also, it provides you the power to efficiently manage products, customers, and orders.
Thus, through using this software you can manage stock, backorders, stock status, sale price, regular cost, weight and extra for every product and variation. Every product of WooCommerce stock manager can be filtered by the Product ID, Product Name, and default sorting.
However, this software also allows you to export all stock data from your store into a CSV file. Along with it, you can also edit the CSV file as per your needs and then import it back into your online store.
Features
Stock report.
Import and export.
Product filtering.
Multi-store operation.
Fast and easy retail POS.
Pricing
It is free available in the WordPress repository.
Installation
You can install this by using the WordPress dashboard, uploading in WordPress dashboard or by using the FTP.
Using the WordPress dashboard
Go to add the new in the plugin dashboard.
Search for this plugin WooCommerce stock manager.
Install and active this WordPress plugin.
Uploading in the WordPress dashboard
Go to the add new in the plugin dashboard.
Navigate to the upload area.
Select the WooCommerce stock manager.Zip file from your computer.
Click on the install now and activate the plugin in the plugin dashboard.
Using FTP
You can download and extract the WooCommerce-stock-manager.zip directory to your computer.
Upload this directory to the /WP-content/plugins/directory.
You can Activate the plugin in the plugin directory.
7. Veeqo WooCommerce Order And Inventory Management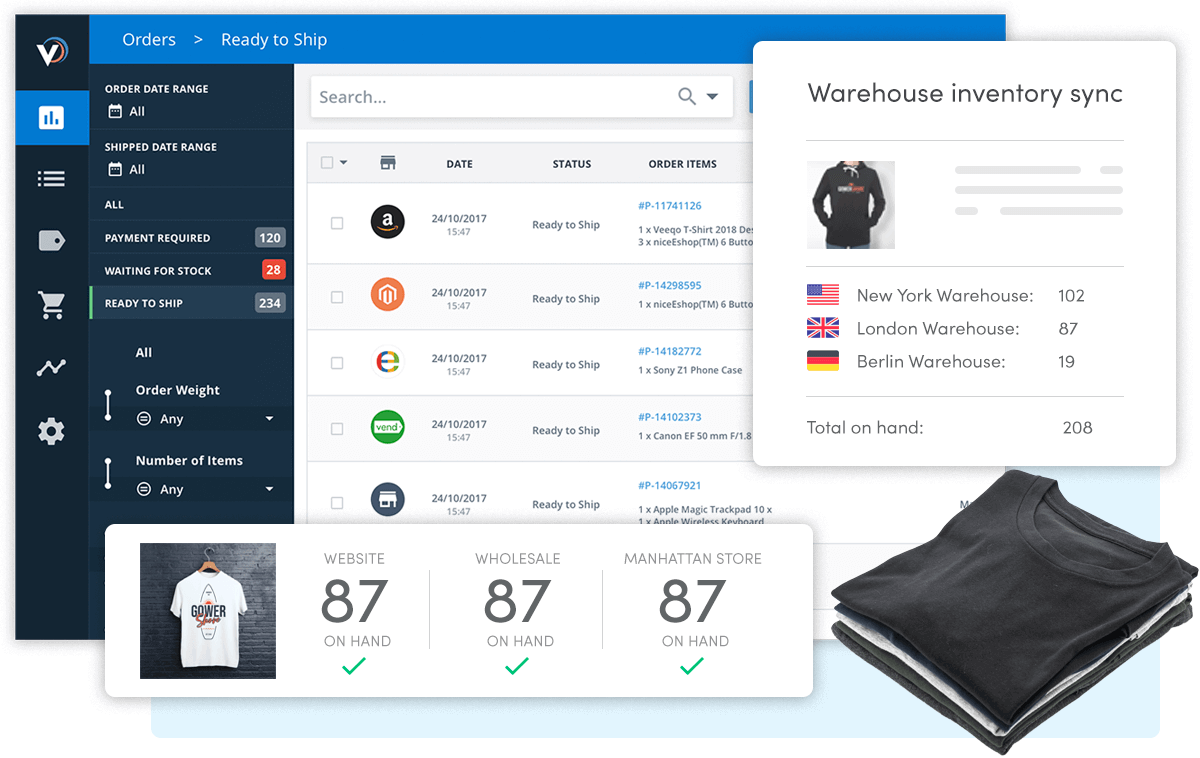 Veeqo helps the WooCommerce retailers automate their entire back office. And you can manage orders, ship for customers, sync inventory across multiple sales channels in real-time, view detailed reports and take tight warehouse control all from a single easy to use this platform.
This enables the business to become extra efficient with the ability to manage everything from one platform. This is an advanced inventory management software that holds inventory perfectly synced across multiple warehouses.
It creates the product kit/bundles and keeps inventory balanced. If you want to manage your stock at a higher level than Veeqo is the best for it.
Features
Bulk edit.
POS integration.
Pinpoint bin location.
Invoice customization.
Complete price control.
It provides inventory history.
Pricing
The accelerator starting price is 460 Euro per month.
The high growth starting price is 580 Euros per month.
The premium starting price is 880 Euros per month.
It provides custom pricing as well.
Veeqo is a smart way to manage and grow your e-commerce business but a bit costly.
8. WooCommerce Out of Stock Manager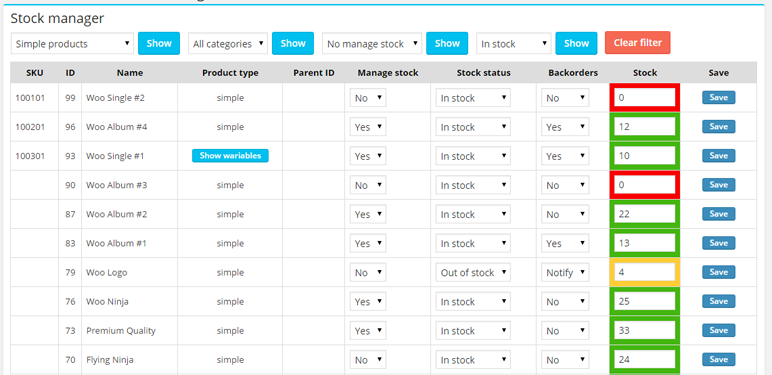 As the name suggests, this WooCommerce out of stock manager plugin can prevent you from falling in situations like low stock or out of stock. This is also the WPML compatible. You can easily assign custom warning low stock values for all your products. It allows editing all inventory values directly from the WordPress dashboard.
Features
You can set multiple and custom low stock values.
It has a dashboard widget.
Custom product page taxes.
It allows email notifications.
Pricing
Its regular license price is $16 and it's available on CodeCanyon.
9. eSwap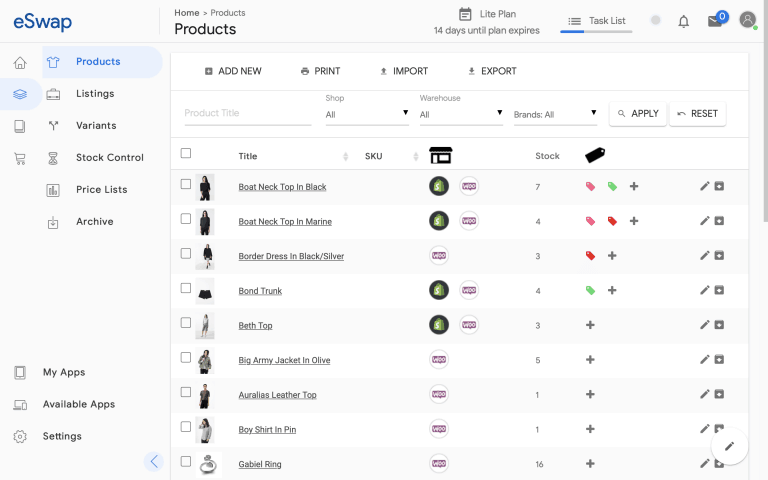 eSwap is a cloud-based inventory management plugin. It helps many integrations, WooCommerce is one of them. Due to automatically updating and synchronizing functionality, and you will be able to balance your stock levels.
This is a very fast view of your inventory per the warehouse. It is easy per channel filtering. eSwap includes import, export feature for whole your inventory to CSV.  You can use a custom tag for starting products.
Features
It has order management.
Inventory management.
Warehouse management.
Product management.
Shipping Management.
Channel to channel listings.
Analytics reporting.
Pricing
Lite package starting is $39 per month.
The premium package starting is $79 per month.
The business package starts is $199 per month.
10.WooPOS

WooPOS is also one of the most famous WooCommerce inventory management plugins. This is considered as one of the most strong add one available at the WooCommerce store. It provides for collecting information for inventory management.
The buy order management of this plugin is amazing because that provides you great access to stock adjustment. Also, WooPOS allows you to manage your inventory from multiple stores with detailed accuracy and customization.
WooPOS is a powerful cloud database feature that helps to access your data anywhere, anytime. And you can easily customize your WooCommerce store with physical retail locations and add automation and with new functionality for your current WooCommerce setup.
It includes product identification, logistics, percurrent, etc are now very easy with the help of custom barcode label generator.
Features
Easy installation.
A highly detailed tracking system.
It comes with a built-in barcode and label generator.
This offers a cloud database feature.
It can manage multiple storefronts with ease.
Secure payment modes are available.
Synchronize data across stores.
Customer support is available 24/7 hours.
Pricing
$29 per month for a single user.
$119 per month for 5 users.
$219 per month for 10 users.
11. ATUM Inventory Management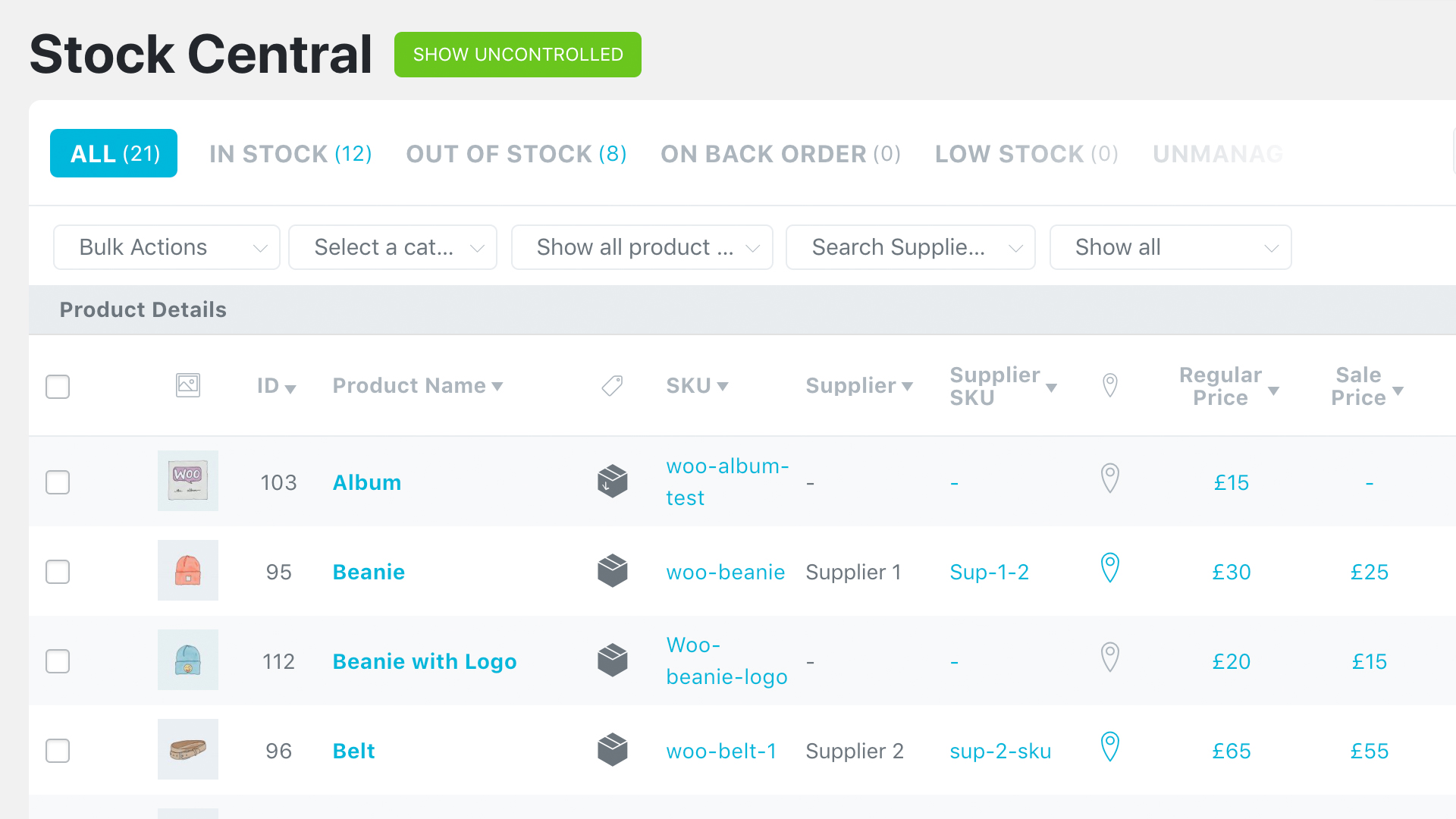 ATUM WooCommerce inventory management plugin provides you full control of the WooCommerce stock. You can edit every aspect of your WooCommerce inventory, suppliers, SKUs, locations, weight or even prices. ATUM users can create buy orders, set up locations, and suppliers.
Its benefits for customers because ATUM is the free WooCommerce inventory management plugins. Forward, it provides you full control over the WooCommerce stock. Because this is an advanced stock management software for WooCommerce.
With the help of this plugin, users can keep track of each time of every item which they have in stock. If using this theme then you have the power to change every aspect of your WooCommerce inventory, SKUs, suppliers, weight, and cost of the products.
So the developers of ATOM developed a brand new widget section that can be customized from every corner. Also, customers can create buy orders, set up locations, and suppliers. So this free software helps you to manage all your products from one screen.
This is all in one platform. Meanwhile, to say, the Atum inventory management plugin will take care of all your business requires.
Features
This is free.
One page updating.
You can quickly edit the product details.
You can record any inventory movements.
Complete location for hierarchy tracking.
Export your full inventory introduction PDF and CSV.
Pricing
ATUM takes the add on pricing with the small business in mind. And the add ons pricing start at $42 per year.
There is a free version available on the WordPress repository.
12. Katana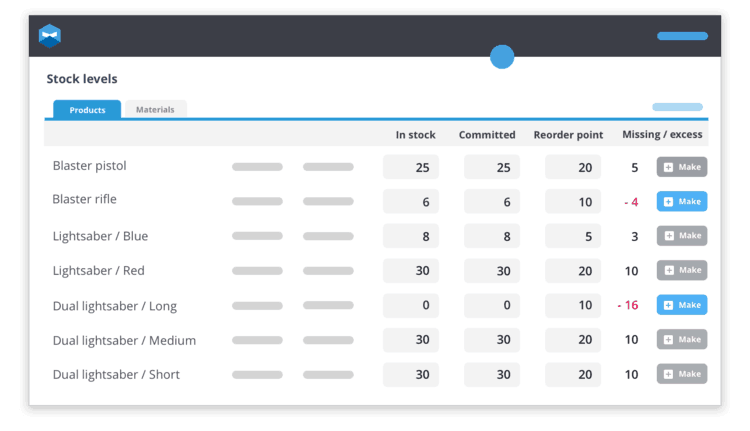 Katana makes this easy for manufacturers selling on WooCommerce to manage business operations and inventory. We can control our product recipes, ensure upon-time purchasing of materials, avoid stock-outs with important alerts, and manage the production responsibilities of team members.
We have full visibility of your fulfillment process. You can easily understand. It has a visual dashboard. This plugin is specially designed for the needs of modern manufacturers who want to scale.  Katana is the best WooCommerce making plugin on the market, which can support you overhaul your business performance.
You can track the availability of needed materials. It provides drag and drops priorities for customer orders and manufacturing tasks. You can buy missing raw materials from suppliers on time.
Features
Production planning.
Real-time inventory control and optimization.
Sales order fulfillment.
Manufacturing floor-level control.
Purchasing.
Accurate costing.
Push sales orders to accounting for invoicing.
Create multi-level product recipes with subassemblies.
Pricing
Katana provides a $99 per month price included with all features.
You required to pay separate fees to add users like inventory locations and e-commerce channels.
It also offers a 14-day free trial.
13. WP Inventory Manager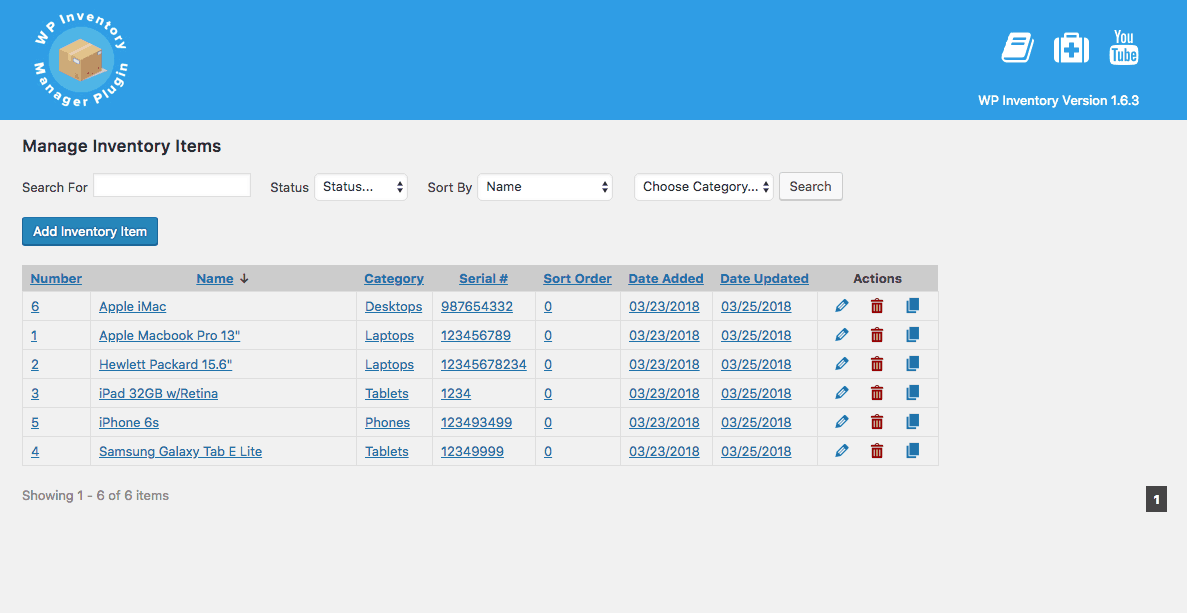 The WordPress inventory manager is an open source plugin with awesome features you require to manage your stock levels. However, you can also get a paid license. So the advantage of a license is only the ability to get add ons.
You can quickly and easily manage your inventory directly from your website's WordPress dashboard. Display your inventory exactly how you want it with an easy to use, drag and drop interface, It comes with fully customizable labels.
You can control many things like editing product information, display items, etc.
Features
Advanced search.
Locations manager.
Advanced inventory manager.
Bulk update.
Import and export.
You can display the inventory listings.
Set custom names label for fields.
Pricing
If you purchase all the add-ons, then the price comes around $149.
It's also available in a free version on the WordPress repository.
14. Stock synchronization for WooCommerce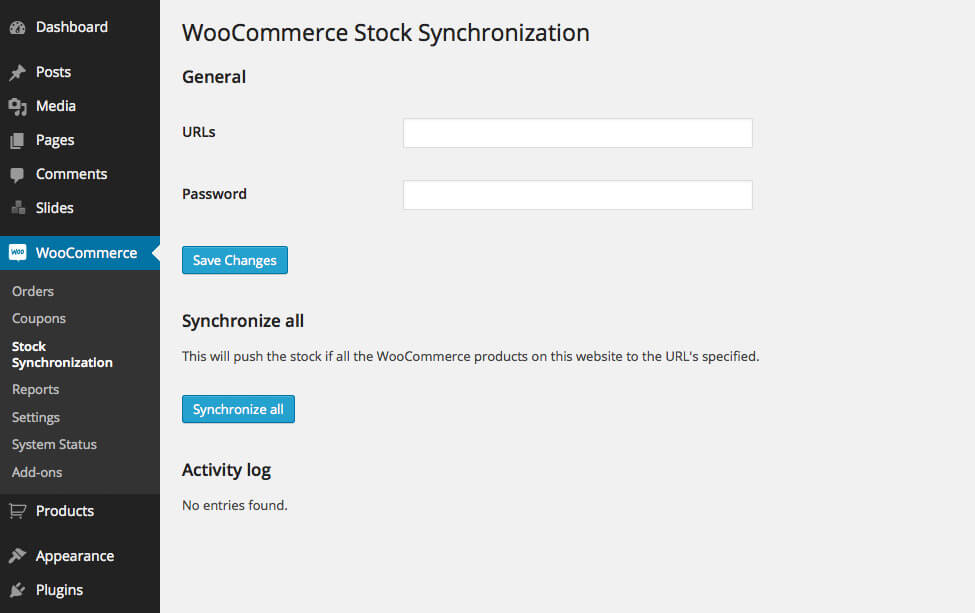 Stock synchronization is also a good inventory plugin allow to manage your store's inventory with external inventory files. This automatically updates your stock quantities from an external file. Apart from that, you can also synchronize your stock with an external CSV file.
For instance, let's say any one of your suppliers sends you a CSV inventory file so you can easily update them with the help of this plugin. This also supports dropbox and google drive for backup plans. In easy words, it saves your stock information on Google Drive and dropbox.
The best things are it works in a good manner with both multi-sites and regular WordPress installs. This plugin is good for your business and increases performance. Let's have a look at some features.
Features
WPML support.
It manages your product prices.
It manages your stock information.
You can update on hourly, daily, weekly.
Comes with support dropbox.
It comes with google drive.
This is compatible with variation products.
You can choose your delimiters like semicolon, comma, or tab.
This is FTP support and large CSV files supported 10,000 plus lines.
Add up to two quantity fields.
Pricing
Its plugin price is $15 with 6 months' support from maxman 1850. You can also extend help up to 12 months by paying an additional charge of $3.75.
15. DEAR Inventory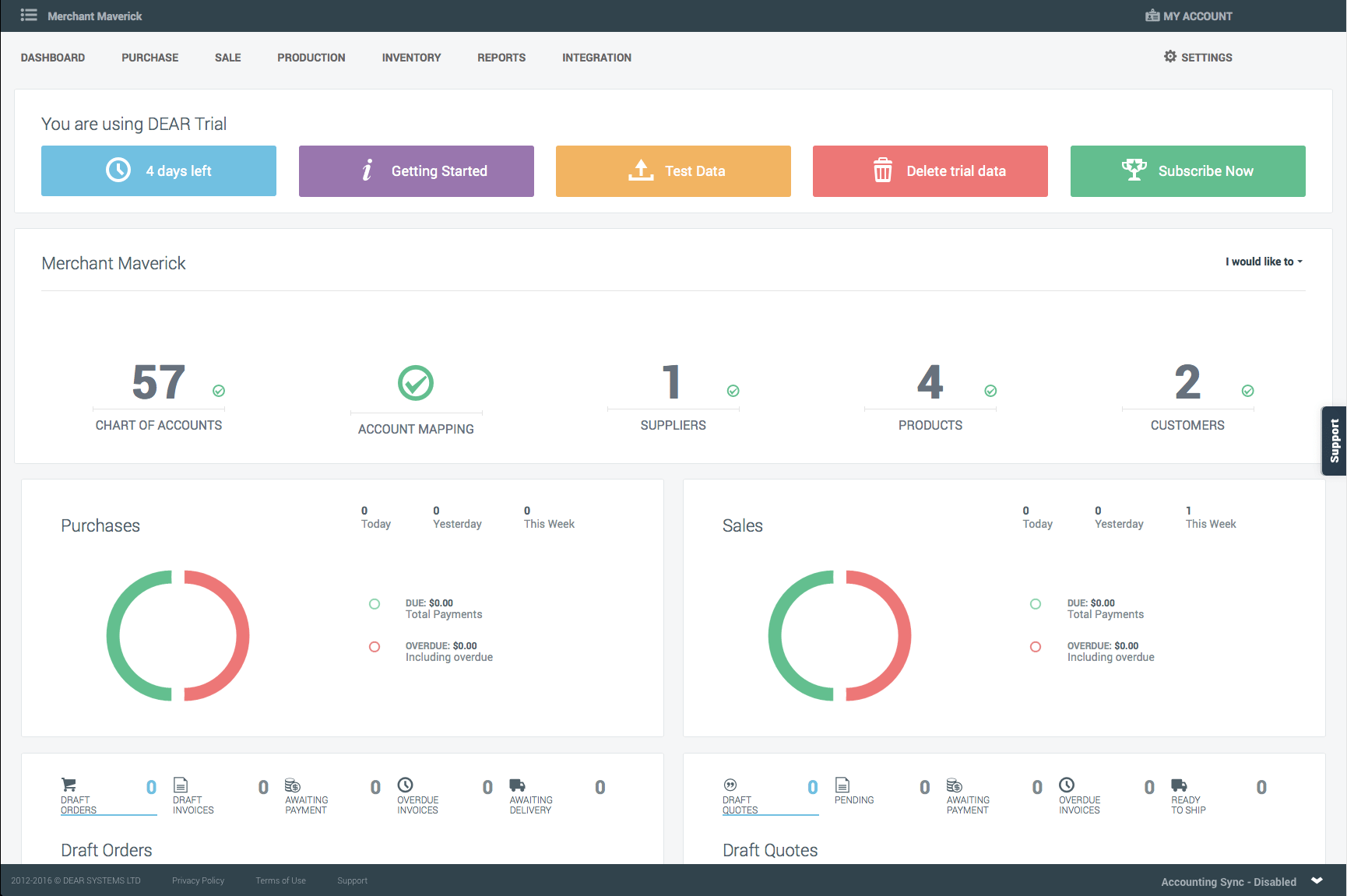 Dear inventory is a cloud-based inventory management device for small and midsize retailers and wholesalers. if you need to follow the finished goods as well as the list of raw stuff, this is a good choice for you. It will enable you to control sales, inventory, and shipping on multi-channels. It is ideal for making companies with its pre-defined manufacturing module, which helps you follow the cost of raw materials and labor in the production of finished goods.
Just as other inventory management systems like a stitch, TradeGecko, and Orderhive. It is a robust inventory management product. Dear inventory allows the business to make a plan, and track every phase of the buying process. The solution it gives reminds the user for recorder the stock in time for avoiding the stock out situation.
Since this software record the suppliers buying history along with product cost and inform the user after certain analysis for when to buy the next batch of products. It is supported by operating systems like Windows 7, Windows Vista, Windows XP, Mac OS, Linux, AIX, Web browser, Windows 2000, Windows 8, Windows 10.
This also supports many inventory management functionalities, like serial numbers, batch/log tracking, and expiration dates. Dear inventory combines with accounting, e-Commerce, and shipment applications like Xero, Quickbooks, eBay, Magento, Shopify, and ShipStation. This is easy to use for customers.
Features
Unlimited outlets and registers.
User control permissions.
You can select multiple payment methods.
You can sale offline and sync orders when online.
It provides a refund and returns.
Pricing
The dear inventory provides 14 days of a free trial.
You can pay $199 per month.
Annually pay is $2189 but this package free for one month.
16. Ecomdash
Ecomdash is a new and highly advanced WooCommerce inventory management of stocks and manages the WooCommerce very efficiently and effectively. This is a cloud-based inventory management system that integrates standard inventory management features with order management and shipping management capabilities into one platform.
This is designed for small to mid-sized online retailers who sell by multiple channels. The system involves multi-warehouse dropship management, multi-warehouse inventory management, barcode scanning, and more than 40 reports, and restock forecasting.
So users can also tag products and organize them in the system through other categories and groups. With Ecomdash, users can automatically sync inventory levels across all of their channels and editor their inventory rules for every channel.
This integrates with Amazon and eBay and allowing users to easily list products for sale on both channels. The platform sends and receives data from online sales channels, suppliers and fulfillment centers, giving users increased visibility over their retail operations.
So the users can also integrate Ecomdash with major e-Commerce shopping cart services, like Magento and Shopify. This is an operating system agnostic and will work with most web browsers. A phone app is also available and the system offers API capabilities.
Ecomdash is costly as a monthly subscription at different tiers based on the user's volume of orders. It supports only Web browser like OD agnostic. This is easy to use. It provides 24/7 customer support, and also it gives great functionality. Ecomdash comes with an automation tool that helps to control your inventory and stocks automatically.
Features
This is easy to install.
Easy management and updating of products.
You can improve the visibility of products and supply chains.
Track serialized inventory.
You can track the products with unique mapping ID systems.
Set custom alerts.
Manages inventory across multiple warehouses.
Make a work record to track the status of finished products.
Accurately view quantities of elements and finished products.
Sell your products in multipacks.
This manages sales orders across an unlimited number of the sales channel.
It integrated with a large no of plugins for good efficiency and result.
Pricing
The free trial is only for 15 days.
Either you can pay $50 per month or $576 per year.
17. Stitch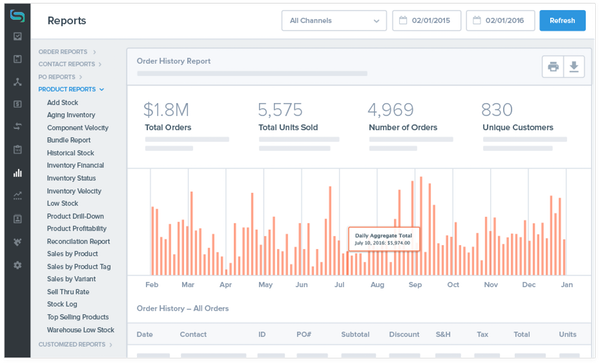 Stitch is offered through the Stitch Labs and Stitch labs is an integrated, cloud-based inventory and order management solution that caters for mid-sized and multichannel retail brands which is another good e-Commerce inventory management software for considering which syncs the inventory, data, and orders across multiple sales channels, suppliers and fulfillment locations.
This acts as one of a beneficial software for many e-Commerce companies that have one centralized location for viewing available inventory across those channels and that sell on multiple platforms. This allows the product for integration with other e-commerce platforms like Amazon and eBay so that whenever a customer places an order on Amazon and eBay.
So all the orders get automatically sync for stitch labs and keep the orders in one location. Stitch's operations management solution is created for fast-moving operations teams at growing Commerce brands. This is to sell versatility on multiple channels. It gives offers fast and reliable shipping for your customers through advanced automation.
It gives merchandise creatively with bundles, pre-orders, loyalty programs, and extra. Gain complete and accurate manages over your inventory and orders.
Features
Rich in functionality.
The 24/7 support team available for solving your queries.
This has zero integration, that works.
It has great inventory systems for small business with big inventories.
It consists of adding functionalities.
You can tag contacts and order with pieces of important information.
Inventory Management.
Order Management.
B2B Wholesale Management.
Purchasing & Replenishment.
Fulfillment.
Reporting & Analytics.
Pricing
Basic is $799 per month.
High is $959 per month.
Premium is a customizable package.
18. Store Pep Mobile App

StorePeP is a handy software when it comes to continuous store monitoring and management on the go. Further, this native android application is a great companion for WooCommerce online store owners for keeping their store performance.
However, storePeP helps you identify the areas of improvement on your site, and implement solutions instantly. As you can check the product details and update, stock, description, and cost from the StorePeP mobile application.
So with this software, you can access a few sales reports which provide you great insights into multiple aspects of your store including inventory management. If you are using this software then you can filter the sales by different time periods like today, yesterday, the previous week, etc.
StorePeP WooCommerce app integration plugin is managing your store while you are away from your computer or when on the move, it is getting really simple! So you can now with StorePeP WooCommerce App integration plugin, and get instant alerts on your mobile about the many possible changes on your store.
This provides a live shipping rate, cheapest price, effortless tracking, and book courier pickup.
Features
You can connect from multiple selling channels.
Dedicated shipping Experts for the Rescue.
It gives a best and affordable shipping solution
You can live track notification for your customers.
Dashboard reports.
Monitor your WooCommerce store.
Get real-time shipping rates from the many carriers on your mobile.
It can generate 100s of labels in some clicks.
Pricing
14 days of free trial available.
The starter package is on 600 orders in $9 per month.
The popular package is on 3000 orders in $29 per month.
A premium package is on 6000 orders in $49 per month.
Enterprise provides unlimited order is $99 per month.
19. WooCommerce Inventory Management From Finale Inventory.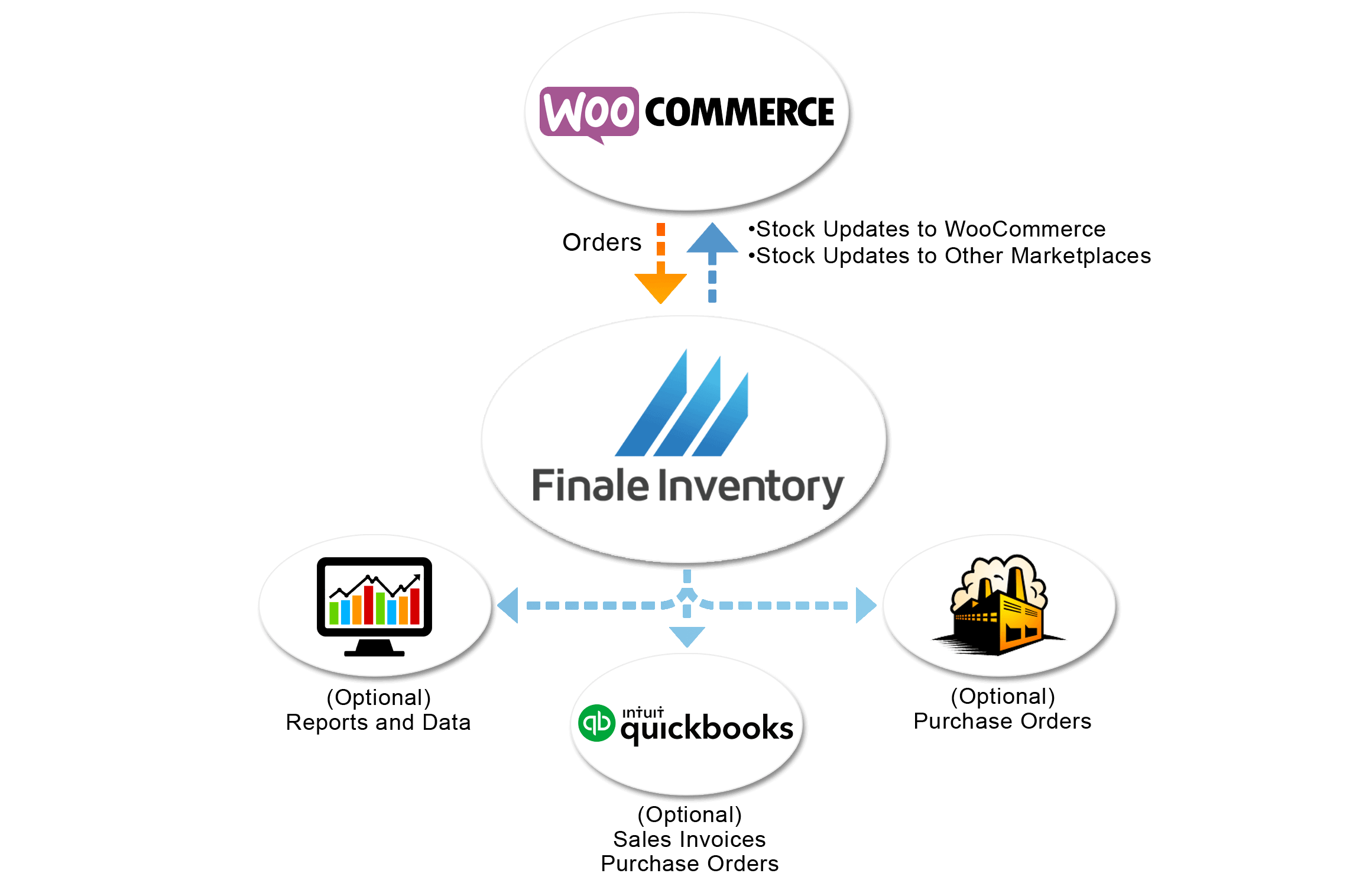 Finale's WooCommerce inventory management solution has the ability to control your inventory from your WooCommerce orders in two common configurations. The first configuration allows a direct connection between your WooCommerce stores and the finale.
However, its orders are automatically synced for the finale where this will create the proper stock adjustment and keep your inventory up to date. Integration with WooCommerce takes seconds for connecting WooCommerce and finale inventory.
There are no changes required for your current WooCommerce account for immediately start syncing orders for finale inventory and effectively managing your inventory. Finale Inventory is restock forecasting and multiple marketplace support.
It allows supporting multiple SKUs for a unique product ID. And it also supports high transaction volumes.
Features
Cloud-based architecture.
Seamless software integration.
Easy migration from excel.
Multi warehouse support.
Barcode scanner support.
serial number tracking.
Pricing
$99 per month for Bronze like a small business.
$275 per month for silver.
$449 per month for gold.
Platinum is $649 per month.
20. PW Bulk Edit

PW WooCommerce bulk edit is a strong way to update your WooCommerce product catalog. This plugin also provides a live preview, inline editing in addition for bulk editing. You can easily edit variations just as quickly as simple products and also change costs by a specific amount or a percentage. Intuitive and responsive, even with a large WooCommerce product catalog.
Experience with the new way to bulk edit products in your WooCommerce store! Bulk discount your product prices. And change sale costs for thousands of products. You can build with ease of use in mind, PW WooCommerce bulk edit is incredibly intuitive. PW WooCommerce bulk edit is also a Pro version.
Features
Easily add variations for products.
Utilize the power of regular expressions for searching and replacing text values.
Save and load filters.
Add and remove the category.
Wildcard search.
Keyword navigation.
Safety net: you can undo changes before saving.
Pricing
PW bulk edit is pro for single-site price is $49.
5 sites for the price are $79.
Unlimited sites for the price is $199.
WooCommerce Stock Management
WooCommerce stock management is one of the most popular and free inventory management plugins. Further, this allows you to manage stock for products and their variable on one screen without for every screen. And also it provides you the power to efficiently manage products, customers, and orders.
Thus through using this software you can manage stock, backorder, stock status, sale price, regular price and much extra for each product and variation. Every product of WooCommerce stock management can be filtered through the product ID, product name, and default sorting.
So before jumping directly to the solutions, let's see the steps involved in making products and setting attributes for your WooCommerce store, This will automatically provide you an idea of the difficulties you would face.
Step 1 Install & Activate WooCommerce

First of all, you required to have WooCommerce activated on your site If not done previously, here's how you do it.
Visit Your WordPress dashboard and search for WooCommerce
Choose the WooCommerce and install it.
Activate this and you are great to go ahead.
Open the WordPress dashboard and choose the WooCommerce. Browse by various options available. And also you can set up your store, manage, coupons, manage inventory and perform many other tasks from this WooCommerce dashboard.
Step 2 Select your product / Set prices smartly
Now it's time to make products. Under the WooCommerce option on the dashboard, and you will have an option called products. Choose and add new products from them.
Next, you will have you have a drop-down to choose what type of product you need to make like simple, group, affiliate.
To begin with, we make an easy product.
Next, enter the price of the product and time period for which you want to sell that product at a particular sale price.
If you want to make changes at a later stage, then you can simply visit the product page and create changes accordingly.
Step 3 Keep an eye on your stock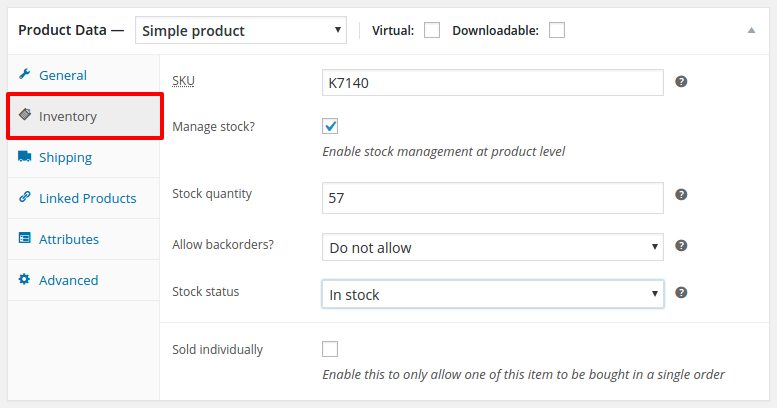 After setting the cost, click on inventory on the dashboard on the left and enter relevant product details like stock-keeping Unit SKU, stock quantity, stock status and whether the quantity is in stock or out of stock, etc.
If you are getting out of the inventory and you want to delete the stock, then you can manage it from the above dashboard. And you can also update your stock from the same page.
Step 4 Add taxes and shipping
If you have physical products for sale, then you can add shipping rates and taxes.
Similarly, you can set different other parameters for a single product.
Finally, you have now created your products.
Inventory Management Difficulties
Well, the world is moving towards automation and you should not lag. The tools are available to avoid tedious work and the same applies for WooCommerce inventory management as well. So here are some of the benefits of using tools for managing inventory for eliminating your difficulties.
1. Add Hundreds In One Go
If you want to add N number of products, then you can easily hold on adding in a single sheet one below another along with the attributes of the settings for every. And no require to make a single product, set attributes and repeat it for each product as you use to do it earlier.
2. WooCommerce Bulk Update And Batch Update
You can choose many items as you want to update them at once. Immediately change costs, stock status, description, variation prices, and weight or groups for products. You can also change the status and shipping-related details for orders.
3. Inventory Reports And Inline Edit
You can view your entire product catalog in one place. If you want to create changes to any particular parameter of a product, then you can do it there itself. The same applies to product variations.
4. Smart Search
The search feature supports you to identify the products which you want to manage. Then you can quickly compare items, spot anomalies, and review details.
5. Automated Calculations
Increase/decrease in prices, stock, etc. Its are calculated instantly in the background leaving no effort on your end to manually keep a track on numbers.
6. Export
If you want to analyze your products later, you can export the sheet and create an analysis based on your needs. Not only export but also can make changes in the copy and then upload the updated copy.
7. Warehouse Inventory Management
If you have multiple warehouses and need for transfer inventory from one place to another using a single platform, then you can now do it easily.
Conclusion
Managing an inventory is not an easy task it takes a lot that can give many problems for business owners. So there is a large difficulty when you have multiple sales and procurement channels.
Therefore, we have discussed here some of the best inventory management plugins that can help you for streamlining your inventory in the way.
If you have any type of query then use the comment section given below to share your opinion regarding this article, if you find it useful.
That's it.