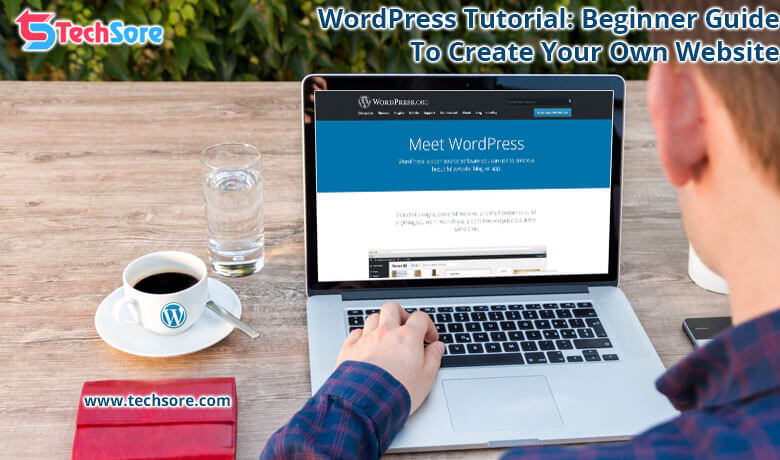 Complete WordPress Tutorial For Beginner With 2019 Updates
A website speaks more than promotions, banners, and advertisements for any project. And to start a website, WordPress is the first choice.  So here we give you the best WordPress tutorial for beginner to create your own WordPress website. As of now, we have added all changes in WordPress that occur in 2019.
Apparently, WordPress is the largest used CMS in the world. Its diversity and flexibility make it more popular than the other tools. WordPress as a CMS is very versatile and easy to handle. In this article, we have mentioned all the required points you need to know about CMS to start a website and run it smoothly for a long time.
Table Of Content
Let's move more precisely to each point of WordPress tutorial for a beginner-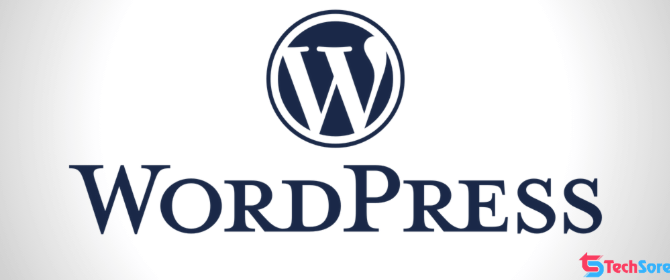 1. What is WordPress
WordPress is an online open-source content management system or tool developed on PHP and MySQL. Its design is a front controller, process all request for non-static URIs(Uniform Resource Identifier) to separate and single PHP file that analyze and identify the target page. That's how it provides supports to More Human readable permalinks.
The latest release of WordPress is 5.0.3 version on January 9, 2019. In December updates, the main changes are done in the post editor panel. This WordPress tutorial will give you an idea of how to use the latest WordPress version.
WordPress has two types one is WordPress. Org and second is WordPress.com.  In this WordPress tutorial, we describe the difference because it's important for beginners to know the difference between both kinds of WordPress. Now check out how they are different-
2. WordPress.org v/s WordPress.com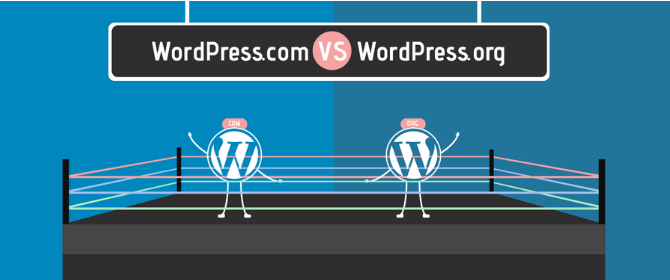 WordPress.org and WordPress. com are both are WordPress with different specification and both satisfy and both justifies the work of a CMS. Starting with the difference-
The key difference in  WordPress.com and WordPress.org and WordPress.com is that WordPress.com is self-hosted and WordPress.org is installed on a web server.
WordPress.com is purely used for blogging purpose and you can't download themes and plugins in it. So all we have to do is work with the default theme. On the other side, WordPress.org allows complete customization of the website.
WordPress.org security is on users' end as it needs to outsource the hosting services while you can't deal with the WordPress.com security.
Another difference is of cost WordPress. Com gives a free version also. So, you can start your website without spending a penny. But in WordPress.org you need to pay for the web hosting service.
To create a Website the basic requirement is a domain and a Hosting service. Firstly buy an appropriate domain and activate the hosting.
3. Choose Domain Name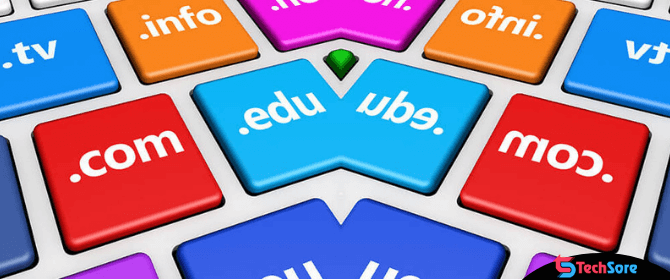 This is a WordPress tutorial but a domain is a basic requirement for any website. A domain is the first identity of a website on the world wide web. So choose a domain name that justifies your website's goal. Look after the point to remember to select a domain-
Points to Remember
Pick a short, easy to remember and easy to type domain.
Try to use the keyword in a domain that justifies your business.
Select the domain with the targeted area for local businesses.
Don't use numbers and symbols in the domain.
Pick the right domain extension(like .com and .net).  Every suffices has its own specification like
| | |
| --- | --- |
| Domain suffixes | Specification |
| www.example.co | the company, commerce, and community |
| www.example.info | informational sites |
| www.example.net | Internet infrastructure sites or technical sites |
| www.example.org | A non-profit or non-commercial site |
| www.example.biz | Business or commercial websites, like e-commerce sites |
| www.example.me | For personal sites |
The above table has all the domain extensions, So select one of the extensions which justify the purpose of your website.
The next step is web hosting. A website without a hosting can't appear online. So, select web hosting service for your website as per requirement-
4. Select Web Hosting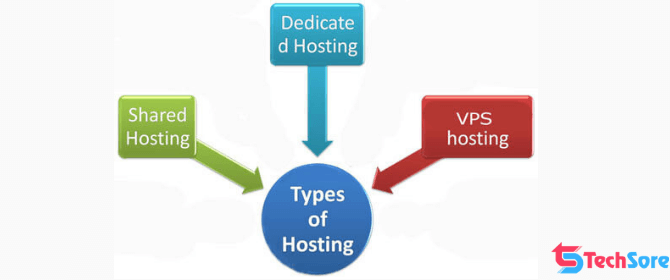 Web hosting has different types like shared hosting, VPS (virtual private server), Cloud and dedicated hosting. Both have different advantages. Let's have a brief about each type of WordPress hosting to get an overview before select web hosting.
In shared hosting, many websites are sharing the same server. It is cheaper than the other hosting services. But due to too much load on the server can affect your website speed and performance.
Virtual private server- A complete virtual machine running on a box. Usually, the service provider runs many VPS instances on one box. Still, VPS  web hosting provides better performance than shared web hosting.
To avoid sharing web hosting use a dedicated server. A dedicated server is a physical box rented to the user to use individually.
Cloud server- A better choice in web hosting. Because the service providers can build the configuration that justifies your needs. It is usually available on giant public clouds like Microsoft Azure or Amazon Web Services.
Every hosting will provide a control panel known as Cpanel that helps you to add, domain, CMS, Google tools, etc that account for your website.
Suggested Blog-Bluehost Web Hosting-Review, Services, Plans and Pricing
The next step in the WordPress tutorial is after the election of perfect hosting then add a domain to it.
5. Steps to Add domain to Hosting
1. Login to Cpanel and click on 'Addon Domains name'.
2. Add the domain name in the 'New Domain Name' section.
3. Click the 'Subdomain field' and the 'Document root' (public_html/domain.com). Usually, it gets auto-filled.
Here you can create an FTP account with "Addon Domain" and it has specifically access to Addon Domain. Click on 'Add Domain'.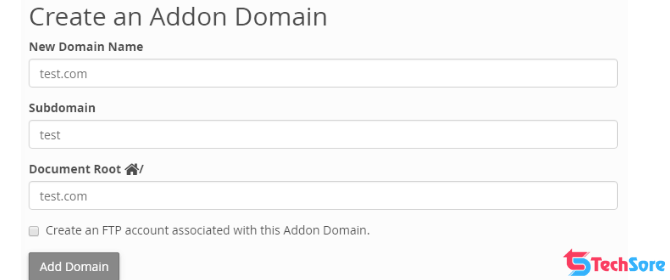 4. Now add the Correct DNS records(Addon domain will not connect until DNS record is not added).
5. Go to Web Hosting Dashboard page in Name.com account. It gets synchronized automatically you just need to refresh the page.
6. Select the Addon domain in the DNS management section>> DNS templates button. Click on the 'Confirm' button and the DNS record is added.
Now we move on to WordPress installation. Let's see how it happens.
6. WordPress Installation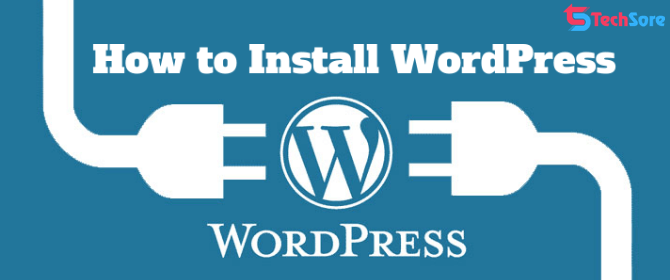 WordPress installation is an easy task and can be done by different methods. The first way to install WordPress in Cpanel. Cpanel is the control panel of the site that allows you to create and manage the files, email addresses, and Database.
6.1.Using Cpanel For WordPress Installation
Cpanel is the most common, easy and fast way to install WordPress on your web server. Furthermore, log in your cPanel and search the name WordPress or Softaculous. Click on the name once you find the option fill the detail asked and install the WordPress.
Other than this you can install WordPress locally on windows via MS Webmatrix. Let's See how-
6.2.  How to Install WordPress With FTP
The method is similar to Cpanel. Your hosting provider will provide you with FTP information.  Now. SignUp the FTP client and transmit it to a desktop program which makes it easy to transfer the file from desktop to the web server we are using. After this, we need a browser.
FTP is more supported by Internet Explorer, Mozilla Firefox and Safari. Create a Database on the webserver for WordPress. To do so login the Cpanel>>Click on MySQL>> Create a new database.
Now add username and password and click on the database and then make sure the user has all database privileges. Once this step is done download the latest version of WordPress from WordPress.org in Your system.
The WordPress version is downloaded in Zip file. Extract the file and you get another folder which contains all software file used to create WordPress. Open the folder and look up the wp-config and .PHP.
Open the file in the text editor like notepad TextPad(Do not use Microsoft Word). Then rename the file Wp-Cong.php. Once it is done scroll down and find out the MySQL setting replace this placeholder with the database name, database username and database user password.
However, for more security purposes delete the WPE portion. Save the changes quit the text editor and switch to FTP FileZilla. Find out the WordPress file in the hard drive. Enter the FTP detail and connect it to the webs server.
Copy the files from desktop to the webserver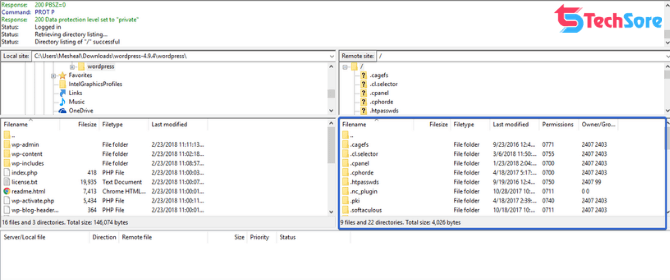 The website file is saved in the public_html directory. Double click to open the directory and remove the default files(Contents welcome page) except the file that we uploaded from a control panel. Once the file is deleted select the WordPress file and drag them to the target folder.
Now the file starts Copying and will take a while to complete the task. Files are uploaded and it's ready to install WordPress. Load your website in your browser. Instead of getting the welcome page you will get the install WordPress screen. Fill the details and click on install. Now you can log in to your site's WordPress admin area with your user id and password.
6.3. Install WordPress On A Local Server
Initially, installing WordPress on a local server had advantages that any other method does not have. You can design your website without any web hosting and once the website is developed you can migrate it from local server to web server.
To get this done download a local server in your systems Like MAMP for Mac and  XAMPP or WAMP for PC. Create a new database to save WordPress website data.
Visit localhost/phpmyadmin on your browser. Click 'New' and assign a name to it and click Create to complete the process.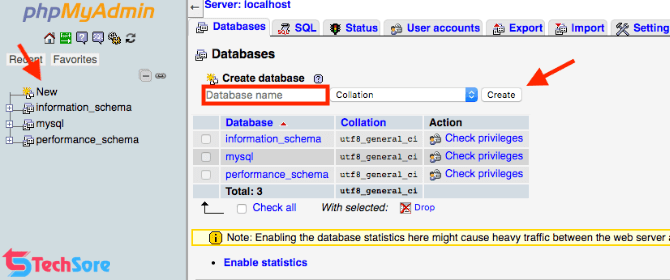 Download the WordPress from WordPress.org site. Now open the localhost directory in your PC. Paste the unzip WordPress folder in the 'htdocs' folder. Search for the 'localhost/WordPress' file in Your browser. Now fill the information asked and hit the Let's go button.
Now fill the database file name, username, and password, etc and submit the details. Here you will get another page with Run the WordPress button. Click the button and fill the username and password and the process of WordPress installation on the local server is done.
Once your WordPress is installed you can access the dashboard. And now you can manage your WordPress website. Let's see How?
7. Manage WordPress website
It is easy to manage a WordPress website. Because, it makes easy to create, publish and manage any kind of content on your website. To start with access the WordPress dashboard.
7. 1. Access WordPress Dashboard
WordPress dashboard is accessed by the password and username you have set at the time of installation. The links you can use to login dashboard are
http://xyz.com/wp-admin
http://xyz.com/wp-login.php
When you login these links you will get the WordPress login screen where you have to put the username and password.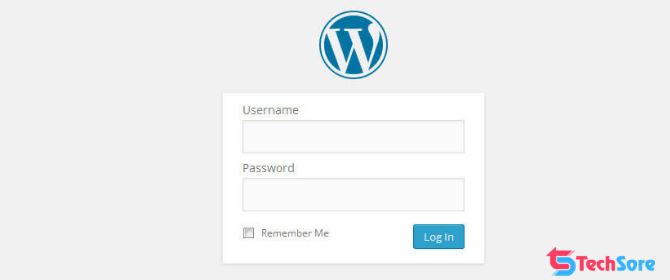 Once you access the WordPress dashboard you will see a welcome section on the top. From here you can design inside and outside of your website. See the image and get an idea of how to start.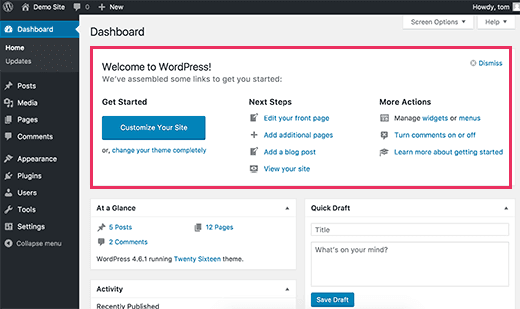 Every section of this page helps you to understand what a website has and what you can change.
Glance is showing the active theme in your site, posts, pages other recent activities. Another section adjacent to Glance is a quick draft. This feature is to create a quick draft on your website. Besides this one more section is there. just below the Glance is Activity box. This shows the latest posts and comments.
7.2. WordPress settings: Basics
WordPress dashboard navigates you to the internal settings. The basic WordPress settings include:
General settings: Allow to change main URL, Time zone, Title,  and description
Writing: Here you can set up default category an post format.
Reading: Set front page from here
Discussion: Configure your comments setting
Media: change the default image size.
Permalinks: Control the URL structure of your post.
When you have done with all these settings. Next step is the post.
7.3. Create Post in WordPress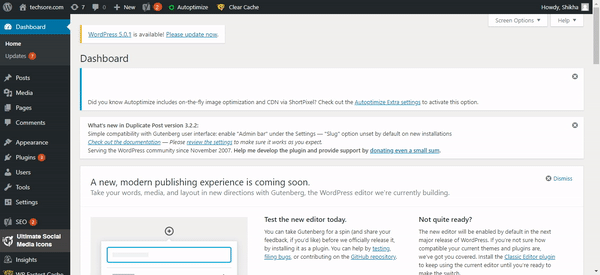 Creating a post in WordPress is quite easy. To add a post click on option 'post' and then Click 'Add New'. Now you get a content page. The content page has two tabs one is visual and another is text.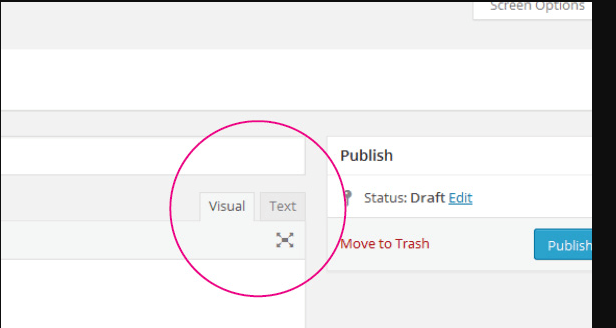 The 'Visual tab' shows the content only in text form while in 'Text tab' the content will appear with HTML format. You can add HTML tags to your content through text tab.

Right above the content section, there is editor toolbar. This helps you to mark heading, add links, display quotes, and add media(Add image in your content).
On the right-hand side of the content section, you edit the status of your content. There is a 'Draft button' that allows you to save content on your site. Content is not live till it is in draft form.
To check the appearance of your blog post, use the 'Preview' option. It gives you an online view of the post without publishing it. And use the 'Publish' button to publish your post.
However,  There another option also which is used to schedule a post and edit the visibility of the post. Scheduling is mostly used to publish articles according to timezones.
Moving down in the same section you have Categories and Tags. This helps the user to manage the post and act as a post filter.
The latest version of WordPress has updated the post editor. It allows you to create a more attractive page. The editor toolbox becomes compact with additional features. You can add different tabs of a paragraph. You can incorporate video without adding an extension plugin.  To see all the new features of WordPress 5.0.1 click the plus or add sign located on the screen.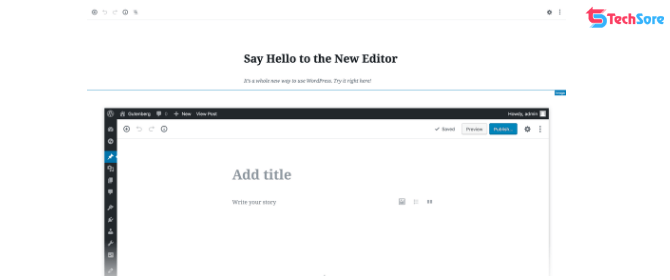 The above discussion is about creating a post in WordPress. Now we discuss how to add pages in WordPress.
7.4. Create Pages in WordPress
Adding pages in WordPress is similar to adding a post. What all you have to do is Click the pages option in the WordPress dashboard followed by add a new page. Title the page add the description you want to add for that page and publish.
There is no option of category and tags for pages. You can edit and update any page whenever you need it.
Other than this, the pages have parent pages. So you can add a page as a parent page or a child page. But this can be done in the menu section only. The menu option will appear in the 'Appearance' section.
In the menu section, there is a drag and drop feature to change the order of pages, And to add the pages is the main menu you just have to select the page name on the left side and click on 'Add to Manu'.
7.5. Comments Management in WordPress
The comment section is a way to start a conversation with your viewers. Every post has a section for comment where are a viewer leaves his comment or feedback.
As the comments do not remain for feedbacks only it also use as a promotional platform. To avoid such things WordPress comment section allows you to delete the comment and display only those comment that is approved by the admin.
Comments are good for your website. But in too much comment is loading hazard. So approve only those comments which add on to your site. Also, set a duration for comments for a particular post.
Another important part of creating a WordPress website is Customization. A customized website add-ons to your site looks and features. The customization of WordPress starts with the WordPress theme.
8. Step to customize WordPress
The customization of WordPress is divided into different parts. The most important part when you customize a website is the theme. Let's understand what is a theme is!
8. 1. Theme in WordPress: Meaning, Use & Installation
A WordPress theme is a kind of front-end visual framework for a site that collectively holds an overall layout and designing of a website. Like the style of the website, font, color widget locations, post categorization, etc.
As it is just a layout so you can edit things on your own and customize it according to your requirements.
WordPress is full of a variety of free and premium themes. You can select any theme that fits your idea and fulfills your expectations.
Initially, when you install WordPress it comes with the default theme. That you can replace with another. To change the WordPress theme from the default theme click 'Appearance'.  Select the theme you want to use and activate it.
Once the theme is activated it gave you the option to customize or just follow the Appearance>>Customize.
Now you can change anything in the theme. But for a few changes, you have to go into CSS codes. Like for footer header alignments, font pattern, and size, etc.
All the changes in CSS codes must be done on the child theme. A Child theme is a copy of the actual theme that holds all the changes you did in the theme and protect theme while the theme undergoes any update. Otherwise, you lost the changes you do in theme.
As the themes add to the website's looks,  the WordPress plugin adds the features to your website.
Note- Always select a light-weight theme for your website. Because overloaded website makes your site slow.
8.2. WordPress Plugin: Definition, use & installation
WordPress Plugins are installable tiny software which adds different function in your website. The thing is WordPress comes with basic tools and software which every online blogger needs to manage their content.  But every blogging and other website need many more other features also.
Like Social media sharing feature, latest update pop up feature, coming soon feature and many more. For different features, WordPress gives different plugins. Even you can convert your blogging site into an E-commerce platform via just adding a simple WooCommerce plugin.
Plugin installation is an easy task to do. All you need to do is-
Go to the option 'Plugin' in your WordPress dashboard.
Click on the 'Add new' button located in the left corner.
Search for the plugin in the search box located in right.
Click on 'Install' for the plugin you want to install.
Finally, activate it to use that feature.
You can also upload a plugin in WordPress. For this-
Search plugin on google. Download it from an online source.
The file is downloaded in Zip form.
Go to the option 'Plugin' in your WordPress dashboard
Click on Add new>>Upload plugin and upload the zip file here
Click install. At last, click Activate to use the feature.
Here we give an overview of the essential plugin on a website.
Essential Plugins
Like any other startups, there are some essential requirements initially. Similarly, when you start a website for any purpose you need some essential feature plugin Like-
You need a plugin that auto-generate XML sitemaps for better SEO(Search engine optimization). For example-Google XML Sitemaps.
An SEO plugin that helps you to enhance your SEO approach. For example-Yoast SEO plugin, All in one SEO plugin.
To secure your website from hackers you need a security plugin. Example-Wordfence Security.
It is good to store data from the beginning, So it's good to add a contact form. Example- Contact Form 7, WP Forms.
An auto optimizer feature plugin that helps to automatically compress all the CSS and HTML scripts of your website to manage WordPress memory. For example- Autoptimize.
Redirect and update plugins that help you to redirect the URL to any other URL. For example- Velvet blue, Redirect 301
You also need a social sharing plugin to allow the viewers to share your content or website on their social media. Like- Social share
For better and fast loading of your site add a clear cache plugin. For Example-WP Super Cache plugin.
Note- If any plugin is not in used. Delete it! Because it just occupying space only.
Next, we move to a WordPress widget.
8.3. How To Manage WordPress Widgets
The WordPress widget helps you to change the layout of your website and content. Like the placing of the recent post, archives post, etc. You can change that layout as you want.
To change this Go to Appearance>> widget. Now you will see the default positioning in the widget. You have primary widget,  content sidebar, Footer widget area. The number of widget area depend on the theme you are using.
It's easy to set a widget where ever you want to display it. You just need to drag and drop. Once it has done just click the save button to save the changes. The removal of a widget also follows the same way. Simply drag the widget away from the widget area.
To create your widget you need to add your own text on the widget, select the plain text widget and then place the text or HTML code in there.
However, like any other tool and software, WordPress also needs to update. Let's see how to manage a WordPress update.
8.4. Update WordPress
In the WordPress website, three things go in the update. The WordPress, Theme, and plugins. And these updates are may be quick or maybe time taking.
Usually, WordPress has small updates. So you don't need to get panic. However, for major updates, it allows choosing a suitable time. Meanwhile, when WordPress is updating you must put your site on maintenance mode.  To avoid the discontinuity with your viewers.
You can put your website on auto-update mode also in few movements or schedule the update. Because updating WordPress, theme, and plugins is an important part. Because the update always contains a better functionality bug-free and security codes.
You can see the notification of the available update on the navigation bar and from the same navigation, you can update your WordPress, Themes, and plugins.
Another thing to take care of the creation of a website is a backup of data. In WordPress, it is quite an easy job. Read further for details the step is WordPress Backup.
8.5. WordPress Backup
Backup always helps when the hard time comes. Losing data on your website sounds like a nightmare. To avoid such issues you must be ready with a backup. So keep the online data in an alternative place also. The purpose of this WordPress tutorial post is to reduce such losses by beginners.
To play safe you have to back up your site regularly and it depends on the content you are publishing in one day.
Let's take an example of a blogging site- Like if you publishing one or two blogs daily then you can plan your backup once a week.  However, if you publishing more than 10 blogs in a week then you have to plan the backup twice a week or daily.
You don't need to available all the time to back up your data you can set a schedule for that. WordPress gives you plugins to plan backup of your site And export it to where you want. You can export your data from WordPress to File, FTP, DropBox, Google Drive, Amazon S3, OneDrive, Box.
Few examples of WordPress Backup plugin are WordPress Backups, BackUpWordPress, All-In-One WP Migration plugin
Another way to back up a WordPress website is FTP and phpMyAdmin. These methods are basically used when you don't have access to the WordPress admin. To proceed by this method you need to log in to your FTP account and download the public_html. This will take time to download the file.
Meanwhile, you can create a backup of WordPress database on your hosting server. For this log in the control panel. Move to Manage Databases icon>>phpMyAdmin>>Export>> Go.
Now you have a complete backup of your website.
When you start something new you must know the pros and cons of that thing. In our case WordPress is open-source, it is easy to use and manage. But this simplicity of a CMS makes it more dangerous.  Read about the loophole of WordPress CMS to overcome with those cones on time.
Issue with WordPress
Security issue is one of the problems with WordPress. As it is an open-source because that programmer can access the page's source code and share their codes with one another. The availability of all codes on the internet is positive as well as negative point of WordPress. Because it ease for a hacker to crack the security code.
Sometimes few plugins in WordPress are too expensive and that plugin is needed to add one function. Spending the money for a single function in quite expensive.
WordPress has a frequent updates to fix bugs and to overcome security issues. It is difficult to keep up with those updates.
Wrapping Up:
Websites are a great source to connect with a large audience. But you must give a good beginning to your site. Through this WordPress tutorial, you can create a website and also able to maintain it for time. We have discussed some important points about Website creation. Like the installation of WordPress, website hosting, customization, Backups and management of a website created on WordPress.
All the points are essential points to be considered while you are creating a website.  Still, you have any queries share with us in the comment section. We will be glad to hear from you.